Qualified Pilots
Fly paragliding tandem with a fully qualified pilot…
Our pilot/guides have a combined paragliding experience of more than 50 years and hundreds of flights on tandem and solo paragliders. They are trained and approved under the standards of the Hang Gliding & Paragliding Association of Canada.
All qualified tandem paragliding pilots in Canada are required to hold paragliding instructor ratings as well as paragliding tandem pilot ratings so you can be assured that our pilots have the experience to make your flight comfortable and enjoyable.
---
Scott Watwood is your chief guide and paragliding instructor. Scott is the owner/operator of Canadian Rockies Heli-Paragliding & Altitude Adventures. He originally moved to Golden to work as a Helicopter Engineer for Canadian Helicopters which is based at the municipal airport in Golden. Scott has over 100 hours actually flying the helicopters he was also servicing.
With a great interest and enthusiasm for getting airborne, Scott is a rated paragliding instructor and a rated paragliding tandem pilot under the standards set by the Hang Gliding and Paragliding Association of Canada.
Scott knows the mountains around Golden intimately and has visited many remote peaks by helicopter or by paraglider. His love of paragliding in the beautiful high Rockies of Canada inspired him to develop Heli-paragliding, including Tandem piloting, as a means to share the excitement of mountain flying with others.
With over thirty years of combined paragliding experience between them, Scott and the other Canadian Rockies Heli-Paragliding guides are ready to show you to some spectacular, peaceful and pristine launch spots high in the Canadian Rockies.
---
Hugo Tschurtchenthaler (pronounced "church-in-taller) took up residence just south of Golden in 1996 where he and his wife Brandy own and operate Tschurtchenthaler Lodge, a gorgeously situated and crafted bed & breakfast facility. Hugo built the lodge himself so he exhibits multiple talents both on the ground and in the air!
Born and raised in northern Italy, Hugo started hang gliding and paragliding in the Dolomites of Italy. He quickly fell in love with the portability and mobility of the paraglider and has flown paragliders at many of the best sites in Europe. Upon relocating to Golden, Hugo quickly earned admiration and respect amongst other pilots for his paragliding skills and his abilities to consistently make exceptionally long cross-country flights through the mountains. (He is affectionately known in pilot circles as HuGone!) An avid outdoorsman and back-country skier, Hugo knows all the best and infrequently visited nooks and crannies of the Beaver Foot and Dog Tooth mountain ranges which surround Golden. He is a rated paragliding instructor and tandem pilot. Hugo won the Canadian National Paragliding Championships in 1997 competing against Canadian, US and a sprinkling of visiting Asian and European pilots.
---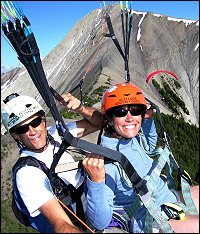 Altitude Adventures
Golden, British Columbia, Canada
To book call: 1-250-439-9446
Email: [email protected]