The tandem experience will literally get you high!
Imagine flying at altitudes up to 12, 000 feet above sea level, soaring over magnificent peaks, glaciers and valleys with nothing between your boots and the ground but clear air. We launch from a vehicle accessible lookout at 6365 above sea level on the north shoulder of Mount 7 above the town of Golden.
the views are beyond compare!
the thrill of free flight beats the Ferris Wheel by a country mile!
this is excitement and fun you can really talk about back home.
Frequently Asked Questions About Tandem Paragliding in Golden, BC.
Are you on BC time?
We are on Mountain Daylight time. That is the same as Calgary, Alberta.
What happens when I get there?
Here is a step by step guide…
Meet at the Skyview Ranch Landing Zone parking lot.
Check in, sign waivers, re-check of weather conditions meet your pilots.
Then take a 30 minute drive to the top.
At launch your pilot will put you into your harness and prepare the equipment.
Review of the take off procedure.
Take flight, enjoy airtime, fly back to the landing zone!
Do you just jump off a mountain?
No. There is no jumping and no cliffs. A Paraglider is launched from a grassy slope and together with the instructor, you take some running strides and are gently lifted off the ground as the glider begins to fly.
How long does the whole thing take?
Flight time is generally between 15- 18 min. but can last longer if conditions allow. (Dependant on thermal updrafts) and the entire experience will take approx 1- ½ to 2 hours.
Are there any restrictions?
For your own safety it is advised that you inform us at time of booking of any health problems. For example: Circulation problems, pregnancies, epilepsy, etc. We must be informed of any artificial knees, hips or ankles. We do have weight restrictions in place (from approx. 60 lbs – 200 lbs) if you are under or over these weights please inform us at the time of booking.
What do I need?
You will need sturdy footwear, long pants, wind breaker or light jacket, sun glasses and camera if you like (you'll be able to use it in flight). A reasonable standard of fitness is required.
What if I am late?
Leave yourself enough time to get here. If you arrive too late, there is a good chance you will not fly. We book our schedule on a 2 hour turn-around, the next booking will take precedence. If there is no time to do your flight in a timely manner then it will be cancelled. Please make sure you understand our directions and keep in mind we are on Mountain time, the same as Alberta, not Pacific time like most of BC.
If you need more information or to book, call us: 250-439 9446
Directions to the Meeting Area "Skyview Ranch" located at 841 Canyon Creek Rd. Golden BC V0A1H2
The meeting place for the shuttle to the launch point on Mount 7 is located at the Paragliding and Hang Gliding Landing Field within the boundaries of the Skyview Ranch in the small community of Nicholson just 10 minutes south of Golden.
Go south of Golden on highway 95. Approximately 6 kms south of town you will see signs for Nicholson. Turn right into Nicholson, then just past the gas station you turn right again, cross the bridge and then keep straight past where the road branches off to the right, the entrance to The Skyview Ranch is on the left hand side. There will be visible signs to indicate it.
See you there!
Contact: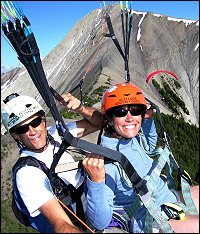 Altitude Adventures
Golden, British Columbia, Canada
To book call: 1-250-439-9446
Web: www.altitudeadventures.ca